Bead weaving requires some basic materials, including beads, a tear-resistant yarn, a beading needle and a bead weaving frame. With the right equipment, bead weaving can quickly become a beautiful and relaxing hobby, while also creating beautiful pieces of jewelry.
---
What is bead weaving?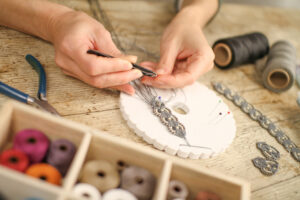 Bead weaving is a technique in which beads are strung on a thread and then woven on a loom frame or loom plate. There are several types of bead weaving, including flat weaving, round weaving, and peyote weaving. In flat weaving, the beads are woven in one plane, while round weaving creates a circular shape. Peyote weaving is a technique where the beads are woven into free shapes and is only suitable for experienced bead weavers. To begin bead weaving, a variety of materials are needed. Wholesale jewelry is a good choice for this purpose, for example.
First things first: of course, beads are needed, preferably in different colors, but in the same size.
Tear-resistant thread is needed for the warp and the weft. If the thread is not tear-resistant, the finished piece of jewelry will unfortunately break quickly.
Bead weaving frames can be bought ready-made or easily made by yourself with a wooden board and a few nails.
The needle must be thin enough to pass the thread through the holes in the beads. Most sewing or embroidery needles are not suitable for this purpose.
How does bead weaving work?
In bead weaving, a row of beads is drawn onto a thread. This thread is placed against the warp threads from below, so that the beads are pressed between the warp threads. Now, on the top side, the thread is pulled through the holes of the beads a second time.
What different patterns can be created?
There are many pattern templates available for bead weaving from the Internet or from appropriate books. From simple geometric shapes to complex floral patterns or animal motifs, everything is possible. Patterns created by using different colors of beads are especially popular. With a little practice and patience, beautiful and unique jewelry or decorations can be created.
Where to find inspiration for new creations?
One way is to browse books or online tutorials to learn new techniques or try different patterns. Interested people also exchange ideas in online forums or on social media. Here, ideas can be picked up on how colors and shapes can be combined with each other. But nature also offers inspiration: leaf and flower shapes can be transferred to bead weaving.
Source:
Andrey Cherkasov – stock.adobe.com
Robby Fontanesi – stock.adobe.com